To say we've had a hectic week would be an understatement! A simple plan, outlined last week, gone almost completely to pot this week. Batch building, yes, it's a good idea, but the building methods that were in use are totally impractical in that situation.
To overcome that drawback, I decided to build a contraption called a go-bar deck. This requires a radius dish to complete (more…)
I've not been very good about keeping this site up to date of late, so for 2013 I have decided to post religiously, every week. And to keep the religious theme, I'm going to call it the 'Sunday Sermon'! The religion,  of course, is the Ukulele!!
The tail end of 2012 got a little busy, not least because, for a while the bugs got into the staff (me) and I didn't feel up to doing a lot at all. Fortunately, most of the jobs that had to be done got there, and those that didn't weren't a disaster. On the bench for the start of 2013 are Ben's 8 string Tenor (is that a Taropatch?) and Andy's Soprano while a third instrument, an experimental one, is also (more…)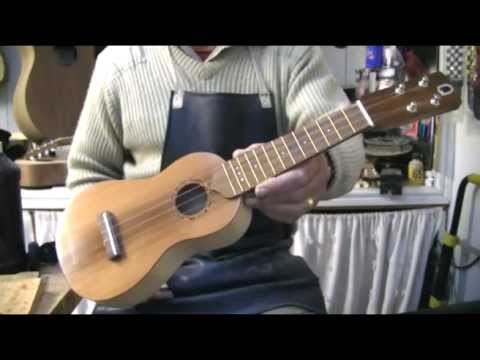 One or two of the instruments we have available for the Festive Season can be heard in these clips. Unfortunately, it is me playing them, rather than someone who really can, but they give you a reasonable idea of the sounds they make. Recorded straight onto the camera with no gimmickry prior to being crunched by [...]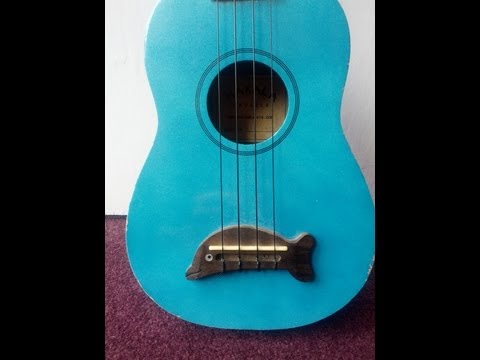 Here is one that made me smile!
My name is Wally, and I'm Walnut. That's the wood I'm talking about, not the seed I was grown from. I was born back in 1785, or maybe 1783. It depends on when you count a tree being born, when the seed is planted in a growing pot, or when the young sapling is planted [...]
Posted by admin on September 3, 2012
with 1 Comment
concert
,
Cuatro
,
festival
,
music
,
Quex
,
Smugglers
,
Tenor
,
Uke
,
Ukelele
,
Ukulele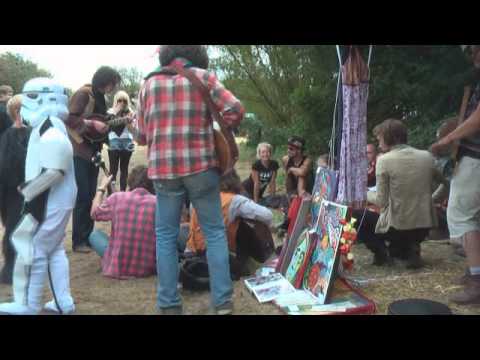 The weekend was spent at the excellent Smugglers Festival, held in a field somewhere between Deal and Dover (It took me one and a half hours to find it, and I knew where it was being held!!) The feedback we got was little short of amazing, with a constant stream of compliments about our 'beautiful' [...]
Posted by admin on August 29, 2012
with 1 Comment
Craft Village
,
festival
,
music
,
Quex
,
shop
,
Smugglers
,
timber
,
Uke
,
Ukelele
,
Ukulele
We will be closed over the weekend 31st August to 3rd September in the workshop at Quex, but that is only because we will be attending the Smugglers Folk Festival somewhere between Deal and Dover. We will have a number of instruments on display, including that
 The website has been quiet of late, mainly because the workshop has been busy! Andy's and Ian's Concert models have been delivered, along with the completion a couple of project instruments, a Bass Cuatrolele or Q-Bass (whichever you want to call it!) and an 8 string tenor which can be seen on the left in [...]
Posted by admin on July 17, 2012
with 2 Comments
as
aquila
,
Ken Middleton
,
Living Water
,
new
,
strings
,
Tenor
,
test
,
trial
,
tuning
,
Uke
,
Ukelele
,
Ukulele
http://youtu.be/QOvOJHGNAjM
Ken Middleton, ukulele player extraordinaire, and a well known figure in the world of Ukuleles, has produced his own range of Ukulele strings. He swears by them, and I have always respected the gentleman. But is he, in this case, a little biased? All the Ukes we produce are fitted with Aquila 'Nylgut' strings as standard. [...]
Posted by admin on July 11, 2012
with No Comments
binding
,
build
,
lesson
,
lumber
,
rope
,
rope binding
,
timber
,
tonewood
,
Uke
,
Ukelele
,
Ukulele
,
workshop
A question I've been asked a number of times recently is whether I buy in or make the 'rope' binding that adorns some of the instruments that we build. Well, buying in would almost certainly violate the concept of building instruments with locally sourced timber. Therefore the answer is that we make our own.  It appears, however, [...]