I have to say an enormous Thank You to everybody that has called, messaged and dropped into the new workshop with good wishes now that I have the 'all clear' from my recent course of Chemotherapy. The
response has been most heartwarming and both myself and Shirley, my wife, really appreciated all the good will.
The response to our new instrument, the Bass-Baritone Ukulele, has also been (more…)
A week missed and a day late! Not very good, is it? I'd like to give a bunch of excuses about being busy and that sort of thing, but unfortunately they wouldn't be true. I just haven't been able to concentrate, but that has now been righted by a trip to the Oncologist to sort out the lump on my temple that has been growing for the last few weeks. So this week coming, apart from a blood test and a couple of scans, I should be able to get back on with things.
Some important legislation comes into force this week, namely The EU Timber Regulations aimed at reducing the trade in illegally logged timber, estimated by Interpol (more…)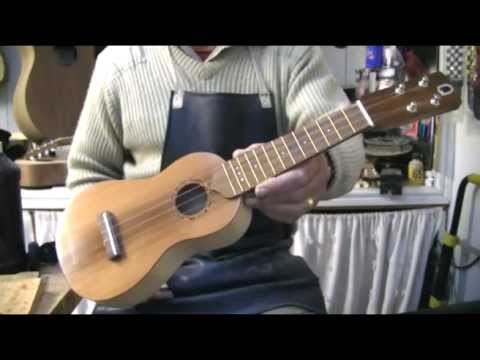 One or two of the instruments we have available for the Festive Season can be heard in these clips. Unfortunately, it is me playing them, rather than someone who really can, but they give you a reasonable idea of the sounds they make. Recorded straight onto the camera with no gimmickry prior to being crunched by […]
My name is Wally, and I'm Walnut. That's the wood I'm talking about, not the seed I was grown from. I was born back in 1785, or maybe 1783. It depends on when you count a tree being born, when the seed is planted in a growing pot, or when the young sapling is planted […]
Posted by admin on July 11, 2012
with No Comments
binding
,
build
,
lesson
,
lumber
,
rope
,
rope binding
,
timber
,
tonewood
,
Uke
,
Ukelele
,
Ukulele
,
workshop
A question I've been asked a number of times recently is whether I buy in or make the 'rope' binding that adorns some of the instruments that we build. Well, buying in would almost certainly violate the concept of building instruments with locally sourced timber. Therefore the answer is that we make our own.  It appears, however, […]
Posted by admin on April 23, 2012
with No Comments
build
,
Craft Village
,
Cuatro
,
lumber
,
new
,
Quex
,
shop
,
Tenor
,
timber
,
tonewood
,
Uke
,
Ukelele
,
Ukulele
,
workshop
It occurred to me that I've not posted any progress reports of late, what with all the tree felling going on but work in the shop has been progressing well. This week, no less than three instruments will get finished, the first of two Venezuelan Cuatro's, a Cool Hand Tenor and a Cutaway Tenor, all featuring rope binding. […]
http://youtu.be/5vDQy9SGQpY
Posted by admin on April 2, 2012
with 2 Comments
Craft Village
,
Cuatro
,
lumber
,
new
,
Quex
,
Sycamore
,
timber
,
tonewood
,
Uke
,
Ukulele
,
Venezuelan
Using locally produced timber was taken to the extreme one day last week, when what was probably the closest tree to the workshop was felled. It was a Sycamore that had self seeded some 100 years ago along the main drive opposite to the entrance of the Craft Village. Needless to say, we watched it's […]
Posted by admin on February 22, 2012
with 1 Comment
build
,
Craft Village
,
lumber
,
shop
,
timber
,
tonewood
,
Uke
,
Ukelele
,
Ukulele
,
workshop
From time to time we get asked about exotic timbers. The most popular timber for making Ukuleles is a wood called Koa. It is one of the Acacia family and is native to the Hawaiian Islands (among other places) where the Uke was invented. The reason it was used was quite simple. It was local and available. Of […]